2019 Summer Sisterhood Bible Study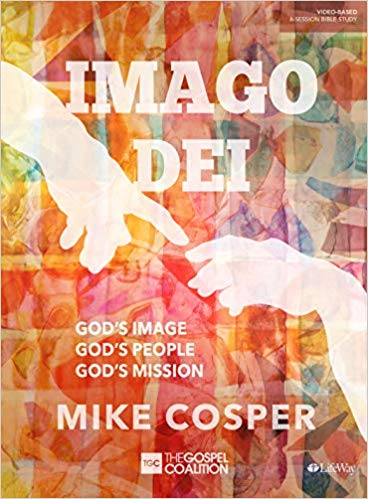 "People are naturally compelled to ask questions of identity: Who am I? What am I worth? Why am I here? The answers culture offers only lead to more questions. To properly answer all these questions, we need to look all the way back to the beginning – to our creation – and see that all people are made in the image of God. Imago Dei is a new group study by Mike Cosper that examines the image of God bibically within the grand narrative of Scripture, relationally as it applies to ourselves and others, and missionally in our service to others and in our obedience to the Great Commission."
All women are invited to attend! We'll meet on the following Thursday evenings from 6:30-8:30 pm at the home of Barb Keller:
June 6, 13, 20, 27; July 18, 25
Need a Word of Encouragement?
CDM is the discipleship ministry of the PCA. The purpose of their Women's Ministry is to "strengthen the church by equipping, connecting, and encouraging women in the church to know Christ personally and be committed to extending His kingdom in her life, home, church, community, and throughout the world. The enCourage blog and podcast seek to give encouragement that is easily accessible for all women." To check out their weekly podcast and other resources of encouragement, click on the link below!
All women are invited to attend! Come once, twice, or consistently throughout. We would love to have you join us! Bible studies are a wonderful way to really get to know other women & grow in faith!
Friday mornings, 9:30 – 11:30 am
Meeting at the Church, Choir Room
Studying the book Adorned along with service projects, guest speakers, and wisdom from Joan Ihlenfeld.
Childcare provided.
Contact Karen DeLorenzo, 724-991-0819
Fourth Tuesday of the month, 1:00 – 3:00 pm
Meeting at the Church, Room 104
Finishing the book Adorned, then starting a new book study TBA.
Contact Barb Frengel, 724-991-7428
Every other Thursday, 6:30 – 8:00 pm
Meeting at the Church, Room 104
Studying Even Better Than Eden by Nancy Gutherie.
Childcare available upon request.
Contact Crystal Furman, 724-822-0186
Gathering once a month, 9:00 – 10:30 am
Meeting at 221 Beech Road, Butler, 16001
This Circle is a Book Club reading & discussing Christian
fiction and non-fiction of women's interest. Light refreshments will be served.
Next Meeting Date: Saturday, June 15, 2019
Next Book:
Slowly Unraveled: Changed from the Inside Out
by Rachel Ann Craddock
Contact Pat Scheffler, 724-822-1414