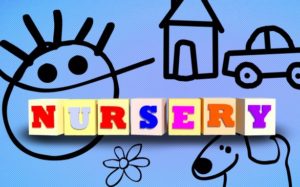 The Nursery is upstairs in Room 201. The Cry Room is in Room 202. Both rooms are equipped with Closed Circuit TV, so you may still participate in the worship service. Please ask an usher to direct you to either of these rooms or for other assistance.
Children ages 2 – 3rd grade are dismissed from the worship service prior to the sermon, if desired. Children remaining in the service may pick up a "Sermon Notes" sheet from the Narthex to help them stay engaged during the worship service.
Sunday School is held from 11:00 am-Noon.
Following the Worship service, kids will head upstairs with Stephanie for a time of music before settling in for their age-based classes. We are excited to be introducing a new curriculum for the students this year!
Children's Christmas Pageant & Potluck Lunch
Sunday, December 10, 2023
Practices for the pageant will be held during the
first
15 minutes of Sunday School beginning September 17.
Dress Rehearsal will be held on Saturday, December 9
from 5:00-8:00 pm in conjunction with
Parents' Night Out! More details coming soon!
Interim Children's Ministry Coordinator – Stephanie Horstman
Email: stephanieh@westminsterpca.com
All children & youth staff/volunteers have background checks and required clearances.