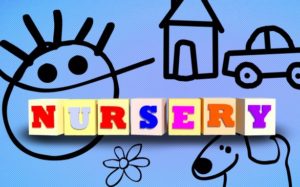 Nursery care is available on Sunday mornings from 9:20 am – 12:00 pm. Two-year-olds are welcome to stay during the entire worship service, or they may go across the hall to join the Toddlers for Children's Worship from 10:00 – 10:40 am. They can then stay for Sunday School until noon.
The Nursery is in Room 201
.
The Cry Room is in Room 202
.
Both rooms are equipped with Closed Circuit TV
, so you may still participate in the worship service.
Our goal is to equip children to worship while they worship. There are pre-reader and school-age children's bulletins made weekly which correspond with each week's service. After we pray for the kids, they are invited to attend Children's Worship or to stay with their families in the sanctuary. This month will focus on Christmas. Note: Kindergartners & older stay in worship on Communion Sundays (1st Sun. of month).
Toddlers-PreK: Room 200
K-3rd Grade: Room 211
Sunday School is held from 11:00 am-Noon.
This school year, the children will be studying the book
First Catechism
which is an effective tool for teaching the truths of the Reformed faith in simple, straightforward language.
Preschool: Room 200
5's – 1st Graders: Room 206
2nd – 5th Graders: Room 210
Various Mondays, 6:00 – 7:00 pm
All kids are invited to join us for a time of fun and games to continue
to learn the answers to our catechism questions!
Friday, April 19
6:00 – 8:00 pm
Everyone is invited to attend this year's Easter event taking place
on Good Friday. We'll enjoy "breakfast for dinner" and then participate
in multiple stations exploring the catechism questions focusing on the
Lord's Supper. Please RSVP by April 16.
2019 Vacation Bible School
Sunday, July 7 – Thursday, July 11
Imagine leaving a life of privilege, power and influence to angry mobs, agonizing imprisonment, and chain-breaking earthquakes—all to share the life-altering truth of God's heart for humanity. Hear the awe-inspiring story of the Apostle Paul…straight from Paul himself! In an ancient "anything goes" culture, Paul will inspire kids to share the truth of God's boundless love!
Ascension Presbytery Kids Camp @
Laurelville Camp in Mt. Pleasant, PA
This year's speakers are our very own Pastor Dan and Jen!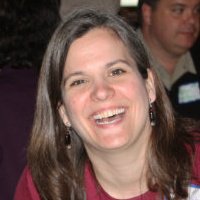 Children's Ministry Coordinator
Jen Ledford
jled4rd@gmail.com
NOTE: All children & youth staff/volunteers have background checks and required clearances.