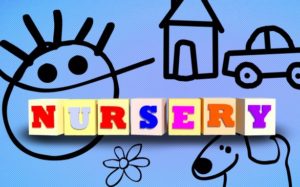 The Nursery is upstairs in Room 201. The Cry Room is in Room 202. Both rooms are equipped with Closed Circuit TV, so you may still participate in the worship service. Please ask an usher to direct you to either of these rooms or for other assistance.
Our goal is to equip children to worship while they worship. Kids will be dismissed from the sanctuary mid-service and go upstairs.
Available for ages 2 – Kindergarten. Children remaining in the sanctuary may use a Sermon Notes sheet to follow along.
Sunday School is held from 11:00 am-Noon.
Following the Worship service, kids will head upstairs for music time before going to their designated classroom for the remainder of the hour. There is a class for Preschool – 1st graders and another for 2nd-5th graders.
Children's Pageant Rehearsal & Parents Night Out
Sunday, November 27, 2022 ~ 6:00-8:00 pm
Parents, bring your kids to church for rehearsal and go enjoy yourselves while they're practicing for the upcoming Christmas pageant.
Children's Christmas Pageant
11:00 am in the Sanctuary
Following the pageant performance, we'll move into Perrin Hall to enjoy
a Potluck Lunch together! Please register for the lunch by December 7.
All children & youth staff/volunteers have background checks and required clearances.