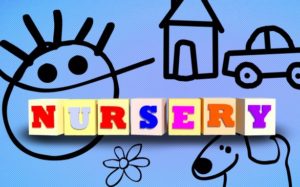 Nursery care is available on Sunday mornings from 9:20 am – 12:00 pm. Two-year-olds are welcome to stay during the entire worship service, or they may go across the hall to join the Toddlers for Children's Worship from 10:00 – 10:40 am. They can then stay for Sunday School until noon.
The Nursery is in Room 201
.
The Cry Room is in Room 202
.
Both rooms are equipped with Closed Circuit TV
, so you may still participate in the worship service.
Our goal is to equip children to worship while they worship. There are pre-reader and school-age children's bulletins made weekly which correspond with each week's service. After we pray for the kids, they are invited to attend Children's Worship or to stay with their families in the sanctuary. This month will focus on the Sacraments.
Toddlers-PreK: Room 200
Kindergarten-3rd Graders: Room 211
Sunday School is held from 11:00 am-Noon.
Following the Worship service, kids can grab a snack in Perrin Hall and then head upstairs with Mrs. Ledford for music time with Mrs. Steck. Kids then disburse to their classes:
Pre-K & Kindergarten: Room 206
1st – 2nd Graders: Room 206
3rd – 5th Graders: Room 210
Poets & Prophets: The books of Job-Malachi
Children's Ministry Christmas Pageant
Fall Family Fun Day @ Irons Mill Farmstead
Saturday, September 28, 2019
Everyone is invited to join in this Children's Ministry event! You can arrive at whatever time suits you, and we'll have a fire pit area reserved from 3:00 – 10:00 pm. We'll eat at 5:00 pm (hot dogs, drinks, s'mores, and paper products provided). Please bring a side dish to share. Additional food is available for purchase. Fireworks at 8:00 pm! This event is FREE for Westminster kids and adults 60+. All others pay $12 directly to Jen. RSVP REQUIRED by September 23 using your Connection Card in the bulletin, responding to the emailed invitation, or texting Jen at 724-473-5230.

Children's Christmas Pageant
Sunday, December 8, 2019 at 4:00 pm
Rehearsal Schedule (held in Room 211 unless otherwise noted)
Sunday, September 22 – 6:00-8:00 pm – Purple Playground @ Alameda Park
Sunday, October 6 – 6:00-7:00 pm
Wednesday, October 16 – 6:00-7:00 pm
Wednesday, November 6 – 6:00-7:00 pm
Sunday, November 10 – 6:00-7:00 pm
Wednesday, November 20 – 6:00-7:00 pm
Wednesday, December 4 – 6:00-7:00 pm
Saturday, December 7 – 9:30 am – Dress Rehearsal in the Sanctuary
Saturday, December 7 – 11:00 am – Performance @ New Haven Court
Sunday, December 8 – 4:00 pm – Performance in the Sanctuary for All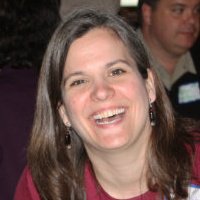 Children's Ministry Coordinator
Jen Ledford
jled4rd@gmail.com
NOTE: All children & youth staff/volunteers have background checks and required clearances.