Summer Sisterhood Bible Study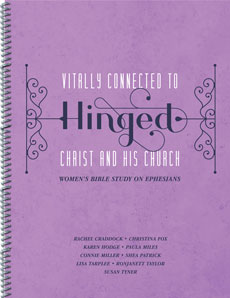 This summer's women's Bible study is being offered in three ways: in-person at the Church, via Zoom meetings, and on-your-own! We'll be taking a look at the book of Ephesians using the PCA study book, Hinged: Vitally Connected to Christ and His Church.
Meeting 12 times
Mondays, June 8 – August 24, 2020
In-Person at Westminster Church in Perrin Hall
(Please wear a mask while entering and exiting the building)
Led by Amanda McCaslin, Crystal Furman, and Jane Hartzler
Thursdays, June 11 – July 16, 2020
Please contact Kelly Condon by emailing finance@westminsterpca.com for materials and instructions.
Need a Word of Encouragement?
CDM is the discipleship ministry of the PCA. The purpose of their Women's Ministry is to "strengthen the church by equipping, connecting, and encouraging women in the church to know Christ personally and be committed to extending His kingdom in her life, home, church, community, and throughout the world. The enCourage blog and podcast seek to give encouragement that is easily accessible for all women." To check out their weekly podcast and other resources of encouragement, click on the link below!