"Over the Speed Limit" (OTSL) Lunches
Over the Speed Limit Lunches (OTSL) are for adults age 55 and older. They are held quarterly at the church. Besides sharing some great food, OTSL luncheons feature devotions and a time of prayer as well as a study of a particular topic through guest speakers or activities.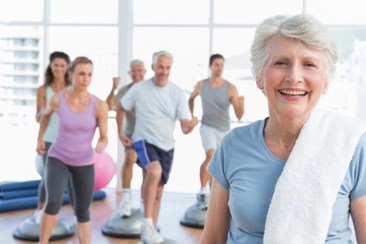 Free Exercise Classes for Ages 50+
Westminster Church, through a collaboration with the Butler YMCA and the Butler County Area Agency on Aging, provides the facility for FREE exercise instruction to adults 50+ years of age. Enter the Church using the Office Door at the rear of our building. If you are new to exercise, please check with your physician before starting any exercise program.
OTSL Christmas Lunch
December 1, 2021
12:00 – 2:00 pm
Perrin Hall
Join us for our annual Christmas lunch in Perrin Hall. We'll enjoy a delicious meal prepared by Doug and Mike, and then get in the holiday spirit with Christmas music and a meaningful devotion from Pastor Dan.
Please RSVP by Sunday, November 28th!