Teaching Women to Think Biblically About All of Life
The Women's Ministry (WIC) is a diverse group of ladies who love the Lord and are committed to the women of Westminster. The focus for the 2017-18 year is mentoring cross-generational relationships in the women's community of Westminster
Equip – Connect – Encourage
The Women's Ministry seeks to equip, connect, and encourage women in the church to know Christ personally and be committed to extending His kingdom in her life, home, church, community, and throughout the world.

We seek to glorify God and serve his kingdom by teaching sound doctrine that trains and disciples women to know and apply God's Word to all of life.
The following Bible Studies meet from September – May. Each Circle is utilizing the book Adorned: Living Out the Beauty of the Gospel Together by Nancy DeMoss Wolgemuth for their study this year.
Hannah Circle
Most Fridays
9:30-11:30 am
Choir Room
Free child care provided!
Contact Karen DeLorenzo
Joanna Circle
2nd Thursday of the month
Perrin Hall
6:30-8:30 PM
Free child care provided!
Contact Danielle Hoffer or Crystal Furman
Elizabeth Circle
4th Tuesday of the month
Location: TBD
1:00-3:00 PM
Contact Barb Frengel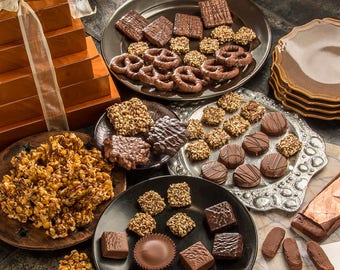 Friday, February 2
It's going to be a yummy evening of fellowship as our own Holly Steck presents a History of Chocolate – with chocolate sampling! She'll also continue our study of this year's theme book, Adorned.
Please RSVP by January 29
so we have enough delicious chocolate for everyone by using your Connection Card on Sunday, responding to the emailed invitation, or emailing
office@westminsterpca.com.
Invite a friend to come, too!